6. •Ε 6 COLONIAL "A" Extra Thin Masterpieces
•Ε 5
WALTHAM COLONIAL "A"
Extra Thin Masterpieces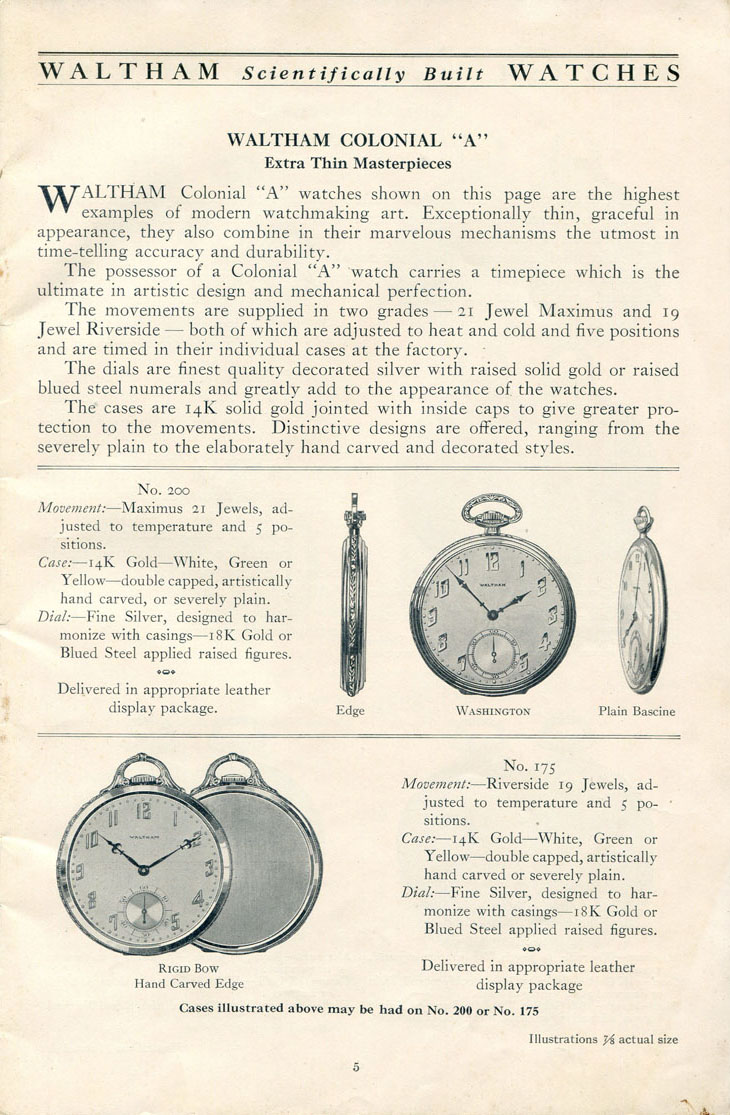 WALTHAM Colonial "A" watches shown on this page are highest example of modern watchmaking art. Exceptionally thin, graceful in appearance, they also combine in their marvelous mechanisms the utmost in time-telling accuracy and durability.
The possessor of a Colonial "A" watch carries a timepiece which is the ultimate in artistic design and mechanical perfection.
The movements are supplied in two grades --- 21 Jewel Maximus and 19 Jewel Reverside --- both of which are adjusted to heat and cold and five positions and are timed in their individual cases at the factory.
The dials are finest quality decorated silver with raised solid gold or raised blued steel numerals and greatly add to the appearance of the watches.
The cases are 14K solid gold jointed with inside caps to give greater protection to the movements. Distinctive designs are offered, ranging from the severely plain to the elaborately hand carved and decorated styles.
PR

'O•Ε E 1 / 2 / 3 / 4 / 5 / 6 / 7 / 8 / 9 / 10 / 11 / 12 / 13 / 14 / 15 / 16 / 17 / 18 / 19 / 20 / 21 / 22 / 23 / 24 / 25 / 26 / 27 / 28 / 29 / 30 / 31 / 32 / 33 / 34 / 35 / 36 / 37 / 38 / 39 / 40 / E ŽŸ•Ε